Project

Early childhood education

Early childhood education covers the period from birth to the age of five years. Expanding early childhood care and education is one of the six 'Education for All' goals.

Once diagnosed with a disability, rehabilitation is often an important first step to ensure children can maximize their capabilities and have the chance to fully participate just as other children. Niketan focuses on the unique possibilities of each parent and child. Parents are part of the project and learn to stimulate the development of the child in a playful and enjoyable way. We use an approach that considers the skills children already possess and teaches the skills necessary to become independent in a certain activity at the child's highest functional level.

The day care centres are working with a curriculum in which different developmental domains are distinguished. Although there are slightly different types or methods, most of them focus on the basic developmental domains. Developmental domains include social, emotional, cognitive, and physical growth.

We stimulate the children to develop their skills within their possibilities by using challenging toys. To help parents of complex disabled children in bonding and making contact and with their child, we teach them the Shantala massage technique. It stimulates the physical and emotional development of the child and helps to relax the complex disabled child. With the individual treatment plan we are able to follow the children closely and to anticipate during their development.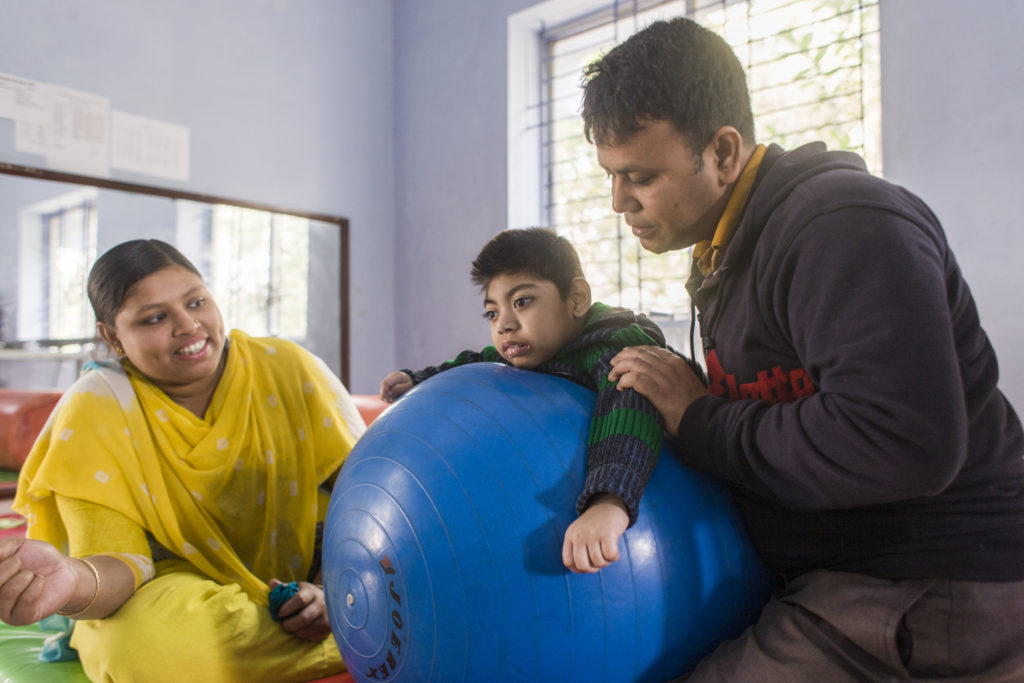 Results
In 2019, the children are encouraged to develop their skills within their possibilities by using the 'small steps forward model'. This model offers supervisors insight into the development of the child and the small steps that need to be taken in order to master new skills.
For example, we measured that Sifat can hold his head in balance for 3 seconds, and that Tamim can do the same for already 13 seconds. Other children are supported to roll, or to take weight on their arms.  We provide physiotherapy for independent movement by strengthening muscles, reducing stiffness, or improving balance.
Assistive devices such as prone standing-frames and braces are also provided.  It helps the child to strengthen his muscles, it stimulates the senses and improves physical development.  It gives a new perception of the world too and improves social skills. This prepares the child for transition to less restrictive environments and activities. Physiotherapists and special needs teachers add play and other cognitive stimulation to a child's rehabilitation program to help improve cognitive growth.