News

Prone Standing Frame – The earlier you start the better

The prone standing frame helps a child to strengthen his muscles, it stimulates the senses and improves the physical development.  It also gives a new perception of the world and improves social skills. This prepares the child for transition to less restrictive activities.

Thousands of children with cerebral palsy or other muscle related disabilities spend their days hidden from view. They cannot attend school, they do not get the possibility to play with friends or to develop themselves. Niketan is committed to remove barriers for people with disabilities and give them equal opportunities in society.

Positioning a child with special needs in an upright, standing position is a step to facilitate bone and muscle development and maintaining range of motion.  It also encourages better function of the internal systems. Finally communication between the child and it's surroundings greatly improves.
How to use it?
The standing frame can be used in two prone positions.
The frame can and must be adjusted to fit each child individually.
The child must be comfortable in the frame.
After a period of getting used to the vertical position, the child may stand for approximately an hour a day.
The child should never be left alone in the frame.
The child in the standing frame should participate in play, learning activities and social interaction.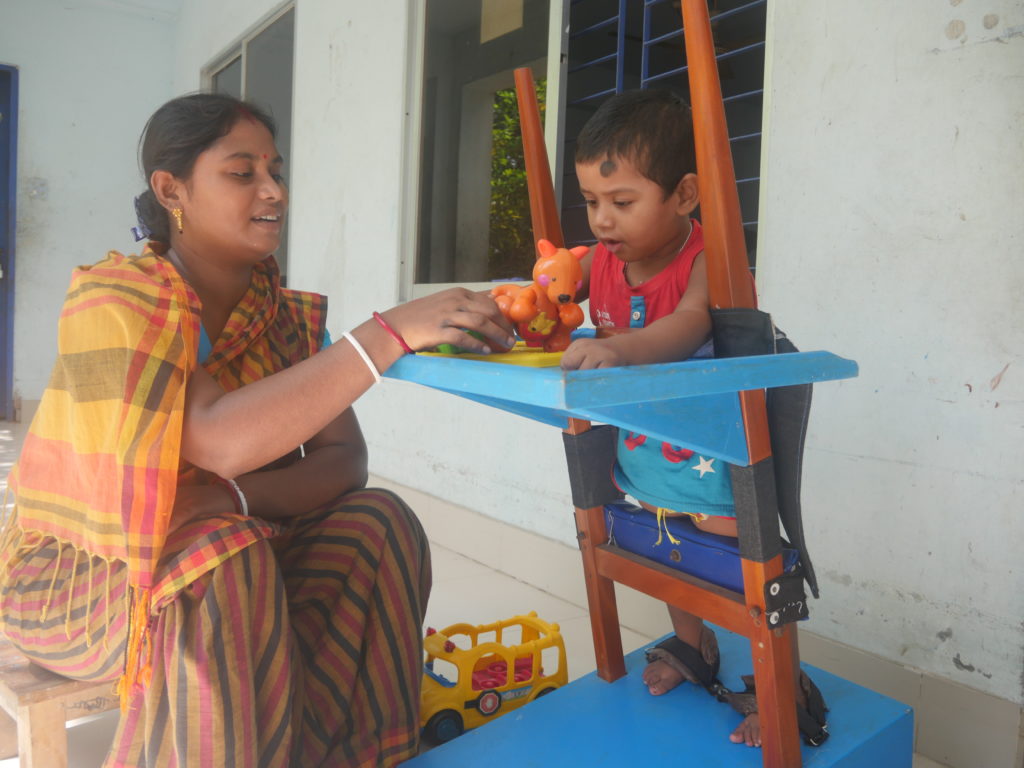 Advantages
very easy to assemble,
easy to adjust for each child individually,
soft and comfortable bolsters ,
colorful and pleasant to look at which invites the child to stand in it and play,
locally produced,
active device.
How to order?
Like to give an order, download the flyer to get the contact details.
The prone standing frame is made by the carpentry center. The youngsters have their own limitations. However, they are well trained and  skilled at producing assistive devices for children with special needs.  The devices are made from locally sourced materials. We believe the devices to be a meaningful asset to the inclusion and development of children with special needs.