News

Covid-19 impact on our work

Undeniably, the direct and most immediate impact of the Covid-19 crisis in our sector is the loss in development and learning opportunities for our children. However, the loss of schooling and therapy hours is not the only Covid-19 result. Apart from places for learning, our schools and activities are also vital for social protection, nutrition, health as well as psychosocial support for children, youth and their parents. Therefore, in addition to loss of learning, the closure of our schools has far-reaching effects also on social and economic issues such as school dropout, food insecurity and malnutrition, childcare, as well as therapy services.

Alongside the Covid-19 pandemic, a shadow pandemic of domestic violence is happening in Bangladesh. Niketan community workers received alarming calls about domestic violence and neglect. So, despite the rainy season flooding and Covid-19, Niketan has continued the Sexual and Reproductive Health and Rights classes for youngsters and  sessions in the communities restarted while also engaging with the local government in discussions about and responses to domestic violence and child marriage.
Our Covid-19 Approach
From March 20 till June 15 we had – due to the lock down – an alternative program. Families with children/youth with disabilities received a phone call 3 times a week to find out how they were coping – also regarding food security and child safety. A short, standardized questionnaire – developed for this purpose – was used to monitor the situation and whether, and if so, how the situation was changing for a family. Physiotherapists and teachers explained during these regular calls what therapy exercises to do with the children and what activities to implement to enable children to continue to learn at home (using the theme 'My Surrounding'). Activities focused e.g. on language use stimulation, developing improved cognitive skills, or enhancing physical functioning. Short video-messages were sent to explain to parents what they were expected to do and parents were asked to send short video-clips back, showing how children were doing the exercises and learning activities at home.
Project staff in Bangladesh had to go the extra mile to call all children, monitor the family situation, select families for food or financial support, make videos of lessons and physiotherapy sessions and pack and distribute food packages.  Project staff stayed in touch with local government authorities and received support from them for our families.
From June 15th the government allowed Niketan to restart project services, but the schools had to remain closed. That is why we decided to informally establish additional community schools on verandas of families who have a child with a disability, with a maximum of 3 students. To be able to restart the programs, we designed a template with an easy to fill in check list. With this tool every teacher could indicate what to do to resume classes. By listing which child is in which group, the checklist also played a role to get control over Covid-19 infections when a child or parent was tested positive. This way we could provide care and education to small groups of children in a safe environment. We also restarted our homebased service and training programs.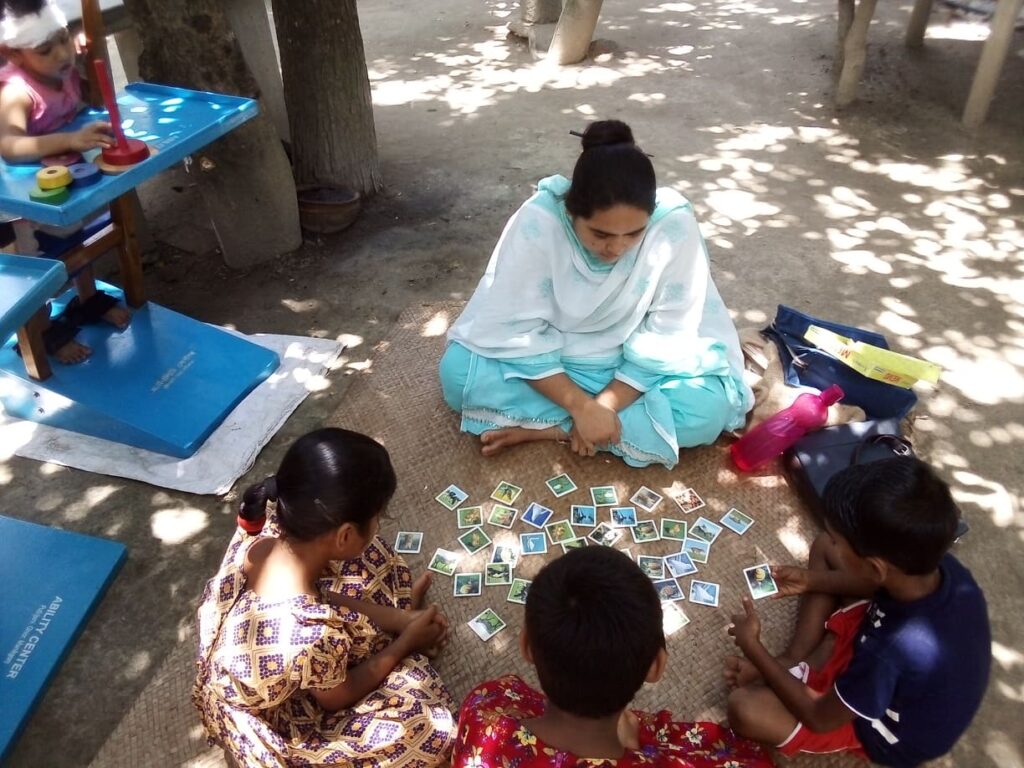 Mid-July we had to stop our homebased services and the newly started veranda schools in the communities due to extreme flooding. We had to return to our online care and education program. 1/3 of Bangladesh was flooded. Manikganj district, where the two big rivers Padma and Jamuna come together, was badly affected. In Daulatpur and Ghior upazila, out of 500 households with a child with disabilities who are beneficiaries of the Durable Care and Education Project, 400 households are living in flood prone areas. Out of these 400 families, 40 had to leave their house and seek temporary shelter on a dam, on the roof of a school or in a house of relatives.
Mid-August we could reopen our 58 veranda schools and restart our basic services again. The teachers and volunteers of the veranda schools provide theme-based classes, like they would normally do in the special school.  To be able to make better use of our dedicated volunteers we raised local funds for laptops. With those laptops the volunteers visit veranda schools to show the children online lessons. They also show parents instruction videos how to provide therapy to stimulate children's gross motor development.
With the support of different organizations, local government, local donations and Wilde Ganzen Niketan provided 400 families with food support from April till July, and 565 families received financial support for 3 months digitally transferred to their Bkash account. This support was for a lot of families crucial, since most of them lost their job and income due to corona and/or the flood. Many also lost their stock, assets, crops and some even their house. This support also reduced humiliation of the parents and violence towards our youngsters.
We knew that the financial support for some parents was just to ease the pain. Out of 565 families with a total of 2729 family members in our program, 550 families lost their income. That is why we continuously tried to raise local funds to give an extra helping hand to families. The team of coordinators asked relief support from the local government and a helping hand was provided with food parcels, money and a vegetable garden.  With calls for action on Facebook we raised about 6000 Euro locally to give families extra food support , soap, goats and sewing machines.
The Covid-19 pandemic also brought some earning opportunities for our youngsters with an intellectually disability and their parents. With an urgent need for masks in Dhaka, they designed a multiple layer washable face mask and used Facebook to sell it. It provided some youngsters a daily task, gave them better self-esteem and their families respected them more for contributing money in this difficult time.  Luckily, our well-wishers in Dhaka provided us enough orders to continue this business for some months.