Story

Shifar Tasnin

Tasnin is a 10-year-old girl with a complex disability, who has been attending the Niketan center since she was a child.

She was only a few months old when her mother came to the early intervention program with her and now she is in the care development group. Despite the fact their daugther shows little progress in her development, her parents are very motivated and do not skip a single school day.

But as the years went by, it became more and more difficult for her parents to get to the center with Tasnin. Because Tasnin needs 24-hour care, both her parents became unemployed. Tasnin's mother is a member of BanglaMa and makes burlap products at the center and at home for 2Mothers, a Dutch organization. With the sewing machine she received from 2Mothers, she can now do some sewing and repair work at home for her family and neighbors. With this work, she earns enough to buy much-needed medicines for her daughter. Her father searched for a long time for a second-hand wheelchair, so he could continue to come to the day center with his daughter and she could come along to activities in the village. But the family couldn't afford even a second-hand wheelchair. Tasnin's teachers reported this to Niketan and in 2021 she received a brand new wheelchair from Rotary Ramna from Dhaka. Tasnin enjoys using it, and she gets outside much more often now, which benefits her health.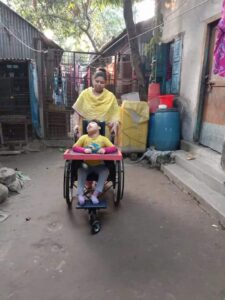 Also read the story of Taharima
With your support we can provide physiotherapy to Tasnin.
Doneer nu