News

"Stories for Inclusion": A project Learning Brief

This project – a partnership between Niketan Foundation and Biblionef Nederland – is founded on the belief that diverse storybooks – also including characters with disabilities – can help change the world for all, starting with children.

Books are a wonderful way to help kids understand that people with disabilities are often just like them – with the same dreams, ambitions, passions and sense of humour. At the same time there is also an unmissable opportunity for children living with a disability to view themselves reflected out there in the world with those without disabilities.

It is not beyond our power to create communities in which all children – also those with disabilities – are welcome, included and supported with respect!

This Learning Brief is telling our story and showcasing what we have learned during the first 18 months of the "Stories for Inclusion" (pilot) project.

Happy reading!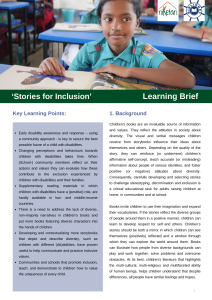 Also read the other news on the  'Stories for Inclusion' project.