News

Making dreams come true with a children's book

"Every Thursday we are taught from the book 'My Name is Runa'. An important lesson we learn is: 'never give up'. If a girl with a disability can make her dreams come true, we should be able to make our dreams come true too." – pupil at Borotia school

The biggest barrier experienced by children with disabilities are negative attitudes and low expectations of what they can or cannot do. Children without disabilities are usually unaware of the problems their peers with disabilities face because they rarely meet these children.

It is the dream of Biblionef Netherlands and Niketan to create children's books that focus on a child with a disability.  The first book 'My Name is Runa', is based on the true story and life of Runa, a young girl in Bangladesh with spastic paralysis. We show her strength, but also all the challenges she faces every day.
Children with disabilities are just kids
Over 150 teachers at 20 elementary schools now use this book every Thursday. During my visit to Bangladesh, I visited two schools and got to attend a lesson about 'Runa'. I interviewed teachers and pupils and was moved by their answers.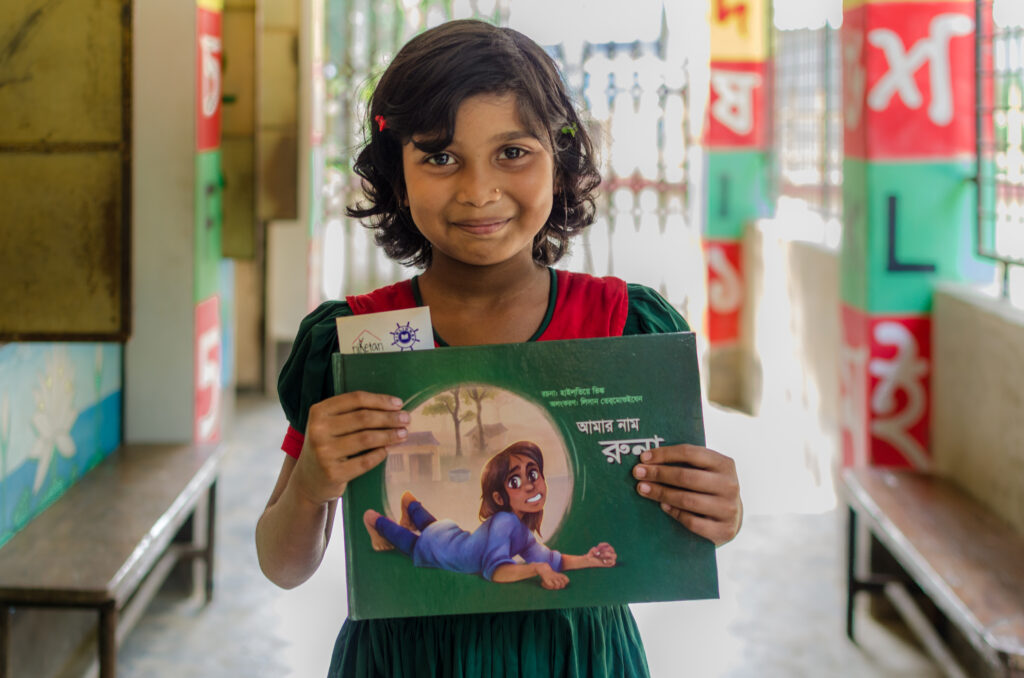 To be honest, I was one of the girls who called children with disabilities all kinds of names. But now we have weekly lessons about Runa, and I understand how much that must have hurt. I don't do it anymore and when kids in my village call them names, I tell them to stop. – pupil at Ulail elementary school
The Runa book is slowly changing assumptions and misconceptions. People are starting to talk with children with disabilities and it turns out they are just kids. Pupils without disabilities now sit next to fellow pupils with disabilities, whom they now involve in outdoor play and stand up for. The book teaches pupils and teachers that people with and without disabilities have the same feelings and dreams. That's an important lesson, because equality leads to greater respect and ultimately a more inclusive society.
Read more about this project