News

You brought back the sun in their lives.

We asked  your support to help families with a disabled child through this difficult time. Your support brought back the sun in their lives.

We are incredibly grateful.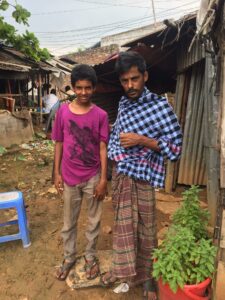 With tears in his eyes, Bohran's father looks at his phone. He has just received the message that Taka 13,500 (135 euros) has been transferred and that he can collect the money from a nearby shop. "Niketan gave us back our life!" he said. Bohran and his father both have a disability. They are poor and live in Badda slum (Dhaka). And, due to Covid-19 there is no work and no income. Bohran's father finds it hard to believe that people somewhere on the other side of the planet are helping him. But he is grateful that he can now buy food for his family and pay the rent for their home, which is no more than a few corrugated iron sheets and cardboard boxes.
Runa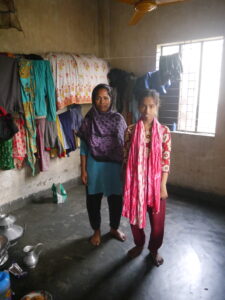 Less than a week after the lockdown was declared, I had already lost my job. My daughter Runa could no longer go to school where she worked as an assistant teacher and got quite bored sitting at home. The landlord kicked us out of the house. As a single mother, I could do nothing but go back to my parents in my hometown. But there also was a shortage of food. My daughter Runa has a disability. She became more difficult to handle by the day because her life had turned upside down because of the corona crisis. We were lucky to get financial support from Niketan and can breathe again! With the money, we bought goats and some food. Runa can help and feel useful again, by taking care of the goats and the milk we sell. We are incredibly grateful for this help.  (mother of Runa)
Ilma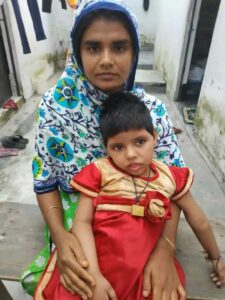 "I don't have any language to express my gratefulness to you . We are living an extremely miserable life in this corona pandemic situation. Ilma's father has lost his job due to lockdown, we have no savings, but debts. Ilma's health condition became worst during the first month of corona attack, 20-25 seizures a day. I almost went crazy what to do. As we don't have money to buy food, how could I buy medicines for my daughter? So, again we had to took loan to buy medicines. In this circumstance, you provided us the helping hand. The food packets you gave, we eat from there. Then the money you gave (9000BDT) at a time, it's a big big help. I repaid a part of my house rent that was due, bought some food, medicines for Ilma, and with the rest of the money my husband started a very small business of onion (street seller). I don't know, how should I thank you but really really you (Amar Joti Special school) helped a lot. It means a lot to me in this crisis moment. May Allah bless you with good things". ( Ms.Rahima, Ilma's mom)
There are 563 more stories of families that can survive thanks to your support. We are incredibly grateful.
Also read our Corona update.